Run.GPS Newsletter: Android™ 4.4, Innovative Scosche® RHYTHM+™ Heart Rate Monitor, Run.GPS Status Quo
Deutsche Version siehe unten
Newsletter July 24th 2014
Dear Athletes,
This time we'd like to introduce a really revolutionary product to you and give you an outlook on future Run.GPS app development.
Note on Android 4.4
With Android 4.4 it's not possible for apps to access the external sd card any more. If an Android 4.3 device (e.g. Samsung Galaxy S4) is updated to Android 4.4, Run.GPS will loose access to its data directory "/extSdCard/Run.GPS" (or similar). Solution: use a file manager (e.g. "Astro File Manager") to move the entire /Run.GPS directory to the internal storage (quit Run.GPS before doing that).
Scosche RHYTHM+: Innovative Heart Rate Monitor On the Wrist
The facts:
No chest strap required
Precise and reliable (thanks to PerformTek™ precision sensor)
Wireless data transmission with Bluetooth® 4.0 Low Energy over up to 30 meters
Rechargeable battery for use over up to 8 hours
Can be recharged at any USB port
IP67 waterproof and sweatproof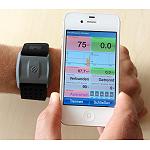 From our triathlon and running lab - Advantages of this product over other BLE wrist based heart rate monitors:
More precise in heart rate measuring
Higher wearing convenience (light-weight device, wide strap)
Reliable and stable Bluetooth 4.0 connection (no connection losses in our tests)
Straps in different sizes are included - no need to purchase extra straps
The Scosche RHYTHM+ works with all Bluetooth 4.0 (Bluetooth Smart, Bluetooth Low Energy) capable devices (i.e. iPhone 4S or later, Android 4.3 or later with Bluetooth 4.0 hardware).
We can offer you the Scosche Rhythm+ at a low price of 95.00 EUR - free delivery within Germany
Run.GPS App Development Status Quo
After the integration of the new screen management is now finished for all operating systems (Windows Phone, iOS, Android), we are now working on a new project: skins for Run.GPS. There will be exchangeable skins that will provide an entirely new appearance to the app. The old user interface will still be available.
Run.GPS on iOS now makes use of the text-to-speech engine coming with iOS, through which the app is able to provide more - and more flexible - voice announcements (e.g. Wikipedia articles, placemarks, heart rate zone).
For Windows Phone and iOS, new free editions of Run.GPS are available:
Special IBERA® Bike Case Offer

Since we have to reduce our inventories, we now sell high grade IBERA bike cases for smartphones at extremely low prices, with 20% to 50% off.
While stocks last! Free delivery within Germany.
Your Run.GPS Team
---
Newsletter vom 24. Juli 2014
Liebe Sportler,
diesmal möchten wir euch ein wirklich revolutionäres Produkt vorstellen sowie einen Ausblick auf die aktuellen Run.GPS-App-Entwicklungen geben.
Hinweis zu Android 4.4
Mit dem Update auf Android 4.4 ist es Apps leider nicht mehr möglich, auf die externe SD-Karte zuzugreifen. Wird ein Android 4.3-Gerät (z.B. Samsung Galaxy S4) auf Android 4.4 geupdated, so geht damit der Zugriff auf alle bisherigen Run.GPS-Daten und die Run.GPS-Lizenz im Verzeichnis /extSDCard/Run.GPS (oder ähnlich) verloren. Lösung: das Verzeichnis /Run.GPS mit einem Dateimanager (z.B. "Astro File Manager") komplett auf den internen Speicher verschieben (Run.GPS muss dabei beendet sein).
Scosche RHYTHM+: Pulsmesser am Handgelenk
Die Fakten:
kein Brustgurt mehr nötig!
genaue und zuverlässige Herzfrequenzmessung (dank PerformTek™ Präzisionssensor)
drahtlose Datenübertragung per Bluetooth® 4.0 Low Energy über bis zu 30 m
wiederaufladbare Batterie für bis zu 8 Stunden Betrieb
kann am USB-Port aufgeladen werden
wasser- und schweissdicht nach IP67
LED zeigt Verbindungsstatus an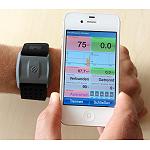 Aus unserem Triathlon- und Lauf-Labor:
Vorteile gegenüber anderen Bluetooth Smart basierenden Pulsmessern fürs Handgelenk:
präzisere Pulsmessung als bei vergleichbaren Geräten
höherer Tragekomfort (Gerät ist leicht, Band ist breit und komfortabel)
die Bluetooth 4.0-Verbindung ist stabiler (keine Verbindungsabbrüche in unseren Tests)
Armbänder verschiedener Länge bereits im Lieferumfang enthalten - müssen nicht extra erworben werden
Der Scosche RHYTHM+ funktioniert mit allen Bluetooth 4.0 (= Bluetooth Smart, Bluetooth Low Energy) fähigen Geräten (also iPhone ab 4S, Android ab 4.3 mit entsprechender Hardware).
Wir liefern den Scosche Rhythm+ zum Superpreis für 95,00 EUR - in Deutschland versandkostenfrei!
Status Quo Entwicklung Run.GPS
Nachdem die Integration der neuen Screen-Verwaltung nun auf allen Betriebssystemen (Windows Phone, iOS, Android) abgeschlossen ist, arbeiten wir derzeit an der Realisierung von Skins - also einem komplett neuen Look&Feel für die App. Parallel dazu wird aber auch die alte Overfläche weiter verfügbar sein.
Für Run.GPS auf iOS wird jetzt die iOS-eigene Sprachausgabe verwendet, so dass mehr und flexiblere Sprachansagen möglich sind (z.B. Wikipedia-Artikel, Herzfrequenzzone, Ortsmarken).
Für die Betriebssysteme Windows Phone 8 und iOS sind nun auch kostenlose Run.GPS-Editionen erhältlich:
IBERA®-Fahrradtaschen-Aktion
Da wir unser Lager abspecken möchten, verkaufen wir die hochwertigen IBERA-Lenkercases für Smartphones zu absoluten Spitzenpreisen, mit Reduzierungen zwischen 50% und 20%!
Solange Vorrat reicht. Wir liefern in Deutschland versandkostenfrei!
Euer Run.GPS Team
---
To unsubscribe from this newsletter, click:
Klicken Sie hier, um sich vom Newsletter abzumelden:
UNSUBSCRIBE
---
eSymetric GmbH
Fraunhoferstr. 5
82152 Martinsried
Bavaria
Germany
Phone: +49 89 41173046
Fax: +49 89 41173050
Email: info@rungps.net
Web: www.RunGPS.net, www.GPS-Sport.net
Registergericht: München HRB 130955
USt.-ID DE 209486424